M22759 Wire - SAE AS22759 - Mil-W-22759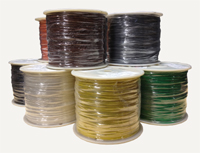 Ryan Electronics stocks a wide selection of high-quality MIL-W-22759 wire. Our M22759 and SAE AS22759 wire meets requirements for small dimensions, high temperature resistance, low weight and low flame propagation.
SAE AS22759 & M22759 Spec
M22759 & AS22759 covers fluoropolymer-insulated single conductor electrical wires made with tin-coated, silver-coated, or nickel coated conductors of copper or copper alloy.