Multi-Conductor Cable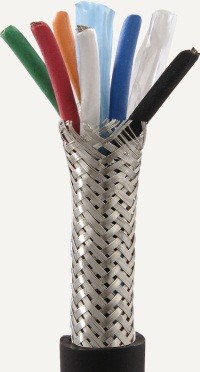 Ryan Electronics' extensive engineering and manufacturing capabilities allow us to be able to meet the needs of virtually any electrical wire and cable application.
From 500,000 feet of single conductor hook-up wire to 500 feet of 100 pair thermocouple cable, from geophysical exploration cable to be used in arctic conditions to high temperature cable for industrial furnaces, we will meet your needs!
Our conductor offering includes:
Bare copper
Tinned copper
Plated copper
All major thermocouple alloys
**All of the above can be specified in solid or stranded constructions
We offer the following insulating and jacketing materials:
PVC
Polyethylene
Polypropylene
Polyurethane
Nylon
Fluoropolymers (TFE, FEP, PFA, Tefzel)
Fiberglass, High Temp Glass
TPE
Our shielding capabilities include a variety of foil shields and metal braids.
We can cross-reference competitor part numbers and manufacture cables of equal or higher quality with greater flexibility in design – whatever colors, stranding, insulating & jacketing materials or put-ups you need, we will make!
We do it all – fast. Our turnaround time is second to none. Contact us today with an order, and have your finished product in a matter of weeks. Better yet, place a blanket order and take advantage of our stocking program for Just in Time deliveries.
For Custom Multi-Conductor Wire & Cable Options: